For over 25 years, NU-CONcept manufactures and educates it's customers about the most deceptive methods to mark playing cards

This web site has tons of information to educate you about marked playing cards. You may want to save time reading by clicking on the free audio & video clips:

If you prefer to read text, the following pages will contain text:







Domino or Rummy-O tiles (please inquire via eMail)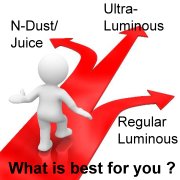 With NU-CONcept marked card solutions you can:
and/or
Easily pre-mark your own cards, in the privacy of your home, to make the finest quality marked cards using juice, luminous or high technology solutions in about 1 hour
Also
IMPORTANT: Allow "ActiveX Controls" in your browser to see video clips
Beginners:
When viewed through filtered sunglasses or contact lenses, luminous marks are easily read as if the cards were face up cards on the table. On the other hand, reading Juice marks will take some practice. Regardless if the marked cards used, no sleight of hand is needed when using marked cards.
The video clip below shows how beginners or professionals can easily read marked cards that other people may be holding with no skill/sleight of hand:
IMPORTANT: Sleight of hand is NOT required when using marked cards. However, in case your interested, the video clips below demonstrate a couple of techniques which are possible when combining marked cards with sleight of hand.
Advanced:
More complex demonstration:
Video clip below shows Jeff (owner of NU-CONcept) combining the use of marked cards with stacking poker hands.
Intermediate:
Jeff demonstrating a simplier, more detailed, explanation of marked cards with sleight of hand:
NOTE: The original NU-CONcept has been manufacturing & selling marked card solutions for 25+ years. "www.marked-cards.com", is proud to say that we are NOT associated with any other marked card web site with similar "copy-cat" names from China, etc. If you purchased the Chinese luminous or video products, sorry. However, NU-CONcept may be able to help. Please feel free to eMail us to solve your marked card problems.
With NU-CONcept....
Knowledge is power !
To all those who saw NU-CONcept's lecture and live demonstrations at the 2008 WGPC in Las Vegas....
Thank You ! I appreciate all of your kind words !
Click here to see the 2008 World Game Protection Conference Show Guide
The NU-CONcept was invited to lecture to about 400 casino executives and surveillance officers representing casinos from around the world on Tuesday, Feb. 19, 2008 at 10:00 AM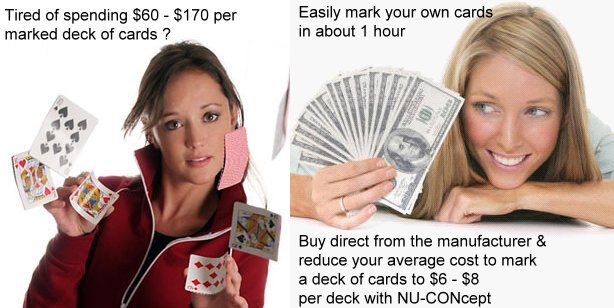 Legal Notice:
It is illegal and immoral to use these marked cards while gambling in private or casino games
All marked cards should only be used for magic, mentalism, educational purposes, casino protection or "FOR ENTERTAINMENT PURPOSES ONLY"
(Do not cheat at poker or other game of chance, especially when gambling for money)