Features / advantages of Luminous Shade Markings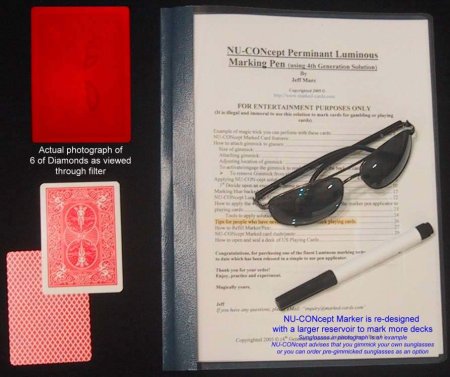 Bablefish language translation for text on this page....click on language desired:
(Note: all audio tracks, video clips and instructions are in English):
| | | |
| --- | --- | --- |
| "Knowledge is Power" with NU-CONcept marked cards | | |

SAVE TIME READING THIS WEB PAGE...LISTEN & LEARN....

<Click arrow below to play audio track> - Features of Luminous Shade - Part 1
<Click arrow below to play audio track> - Features of Luminous Shade - Part 2
<Click arrow below to play audio track> -
Are you better off marking your own luminous cards vs. pre-marked luminous cards ?
Without using the provided "filter gimmick" nobody can see the marks on the cards, even you !
<![if !vml]>

<![endif]>
The NU-CON cept Marked Cards can not be detected with the infamous "Riffle Test" which casinos and gamblers "in the know" use to detect standard marked cards.
Since the markings cannot be seen by the naked eye or by wearing standard sunglasses, recently, some casinos started to protect themselves by using special filters (on the casino floor and on their cameras) to detect this type of marking. You will be able to spot these casinos once you understand the scientific principle behind these cards.
<![if !vml]>

<![endif]>
NU-CONcept also sells luminous daub / paste or a LUMINOUS Dust (TM) (as opposed to the permanent "solution"). Daub or Juice Dust (TM) gives you the ability to make an "ad-hoc" marked deck by using someone else's cards while they are in use, without the knowledge of the spectator.

However, if you want to mark someone else's deck then NU-CONcept strongly suggests the use of red and blue Juice Dust (TM) and not luminous products unless you decide to use Video Luminous technology. The exclusive NU-CONcept marker is very easy to use and allows you to easily keep the luminous solution on the red areas of the card, where it is most deceptive.

Should you decide to use luminous daub or Luminous Dust (TM), care must be taken when applying the marks because the luminous elements may be visible if it accidentally gets on the white areas of the card. This is because daubs or Luminous Dust (TM) are applied with your finger getting the luminous elements on white areas of the card are a real possibility.

Bear in mind that non-luminous daub (ie. red or blue) or non-luminous Juice Dust (TM) (ie. red, blue, burgundy, green) is allowed to get on the white areas of the card without being detected.

For additional information on NU - CONcept paste and Juice Dust (TM), please click here.

Note: The NU-CONcept Marking Solution is permanent, Juice Dust (TM) is almost permanent, while NU - CON cept Daub / Paste will begin to wear off cards after several hours of use. This has the advantage of having any evidence disappear over time, as well as using spectators own deck.

To recap, while NU-CONcept luminous solution/marker is very easy to use, it should be noted that NU-CONcept does not advise beginners or intermediate customers use luminous daubs or Luminous Dust (TM). However, if price is not an issue, Ultra-Luminous is much easier to use and is more flexible than the regular luminous marker. If you want the advantages of daubs or Juice Dust (TM), NU-CONcept recommends the use of red or blue Juice Dust on their respective color cards or the use of N-Dust. Please see "Juice Dust (TM)" page for more details. (Note: No sunglasses are required to read (red, blue or burgundy) daub or Juice Dust (TM) products.)

<![if !vml]><![endif]>

As stated above, the NU-CONcept daub / paste or Juice Dust (TM) is applied right in front of spectator without their knowledge using the tip of your ring finger or pinky. Whereas, the NU-CONcept Solution is used to mark cards before they are used.

NU-CONcept's 4th generation solution is available in a no-mess felt tip marker/pen applicator for easy transportation which allows for more accurate marking. Marking a card may be accomplished in a matter of seconds. (When purchased, the NU - CON cept Luminous Solution comes complete with a marker which will mark 15-30 decks (depending upon size of marking pattern you wish to use), gimmicks for YOUR sunglasses and 37 pages of instructions with photographs - including thoughts, tips and ideas. Quantity discount is available.) NU-CONcept Luminous Enhancing Sunglasses with a "built-in" filter is also available as an option.

Note: You can not easily make "flash" marking patterns using the marker/pen applicator. An optional solution will allow you to use Juice Dust (TM) to make "flash" marked cards. "Flash" marked cards are only recommended for people experienced reading traditional Juice marks. "Flash" marked cards are not for a beginer.

All NU-CONcept Shade solutions has been reformulated to virtually eliminate the risk of burning/dulling the playing card's finish. "One Step" application because no extra finishing coat is required, even on new playing card stock. Simply write or draw you marking pattern and the solution will dry in seconds. The regular luminous marker is designed specifically for red backed paper cards such as Bee, Bicycle, Aviator, Tally-Ho, Hoyle, etc. If you want to mark other color playing cards OR plastic playing cards, NU-CONcept advises using Ultra-Luminous technology OR you may use N-Dust (Juice Dust). (Bear in mind that N-Dust/Juice Dust will take some practice to learn to read the marks. But, luminous technology and Ultra-Luminous technology uses filtered sunglasses to make the marks easy to read.)

(FACT: Jars and brushes make it very difficult to apply solutions in a uniform manner and you will find that a brush applicator will waste solution....and that does not even count accidental spillage. The NU-CONcept "no-mess" marker system allows you to maintain consistent, high quality results on each and every card.)

<![if !vml]><![endif]>
NU-CONcept luminous marked cards can be read from a close distance (1-2 feet) or across the room.
NU-CON cept luminous marked cards can be read indoors or outdoors (under normal light conditions).
<![if !vml]>

<![endif]>
You provide your own sunglasses.....but, NU-CONcept sells pre-filtered sunglasses as an option
(Most sunglasses will work. (ie. Dark tinted sunglasses are good for outdoor use and lightly tinted sunglasses with a flash mirror coating is good for indoor and outdoor use.) With the filter gimmick applied to the inside of your sunglasses YOU will be the only person who can see the marks on the cards)

Note: It is common for gamblers to wear sunglasses while playing cards, just watch the annual 'World Series of Poker" at Binion's Horseshoe in Las Vegas. Gamblers do not want other players to look at their eyes and "read" emotion or discover "tells". When doing magic people can not see you looking at the back of cards.
You can use your own sunglasses (light blue/grey or smoke tint with a sleight flash mirror is preferred for indoor and outdoor use) The "complete" NU-Concept kit includes enough filter for you to gimmick up to 30 pairs of your sunglasses as described in the manuscript and on the video CD. (Note: You can also use un-mirrored/dark sunglasses, which I am wearing below, but, dark tinted sunglasses may require bright light in order to read marks effectively. This is why I advise using lightly tinted mirrored lenses for indoor and outdoor use.)

I provide the NU-CONcept Marking solution and gimmick so that only you can read cards from the back. In the photo below, I am wearing gimmick to read playing cards.

(Note: Option 1 - Glasses can be expensive Carrera's (as depicted here) or cheap drug store sunglasses. The main requirement is that you can not see your eyes while wearing your sunglasses. If your eyes cannot be seen, then the filter will not be visible either.)

(Note: An old technique for marking cards, required that the "person in the know" wear glasses with a red tint to them. This looked very strange, since people do not wear red tinted sunglasses. You will notice in the photo above that my sunglasses are not red. They are standard Carrera sunglasses which people have become accustomed to me wearing almost all the time.)

Standard pre-filtered sunglasses (Closeout sale) - NU-CONcept will pre-gimmick for you lightly tinted, blue/grey, flash mirrored sunglasses for those who don't want to bother gimmicking their own sunglasses. Only NU-CONcept provides a luminous filter which has been altered to compensate for sunglasses with a sleight blue/grey/smoke tint. This option works well in medium and bright light.

NU-CONcept Luminous Enhancing Sunglasses with "built-in" filter - These sunglasses are patented and ONLY available through NU-CONcept. Instead of having the filter applied to the back of the lens, NU-CONcept had the luminous filter manufactured directly INTO a pair of strong polycarbonate sunglasses. Since the filter is built directly into the lens, no modifications were required to compensate for a standard blue/grey/smoke tint.

Your normal vision will have a pleasant blue/grey tint and the marks will only be visible when you activate the gimmick.

<Click here for more information on NU-CONcept premium "built-in" luminous filtered sunglasses>

Ultra-luminous sunglasses (NEW - for the serious professional ONLY) - Will be able to read NU-CONcept luminous solution as well as the higher frequency Ultra-Luminous Solution and/or daub. <Click here for more information about the Ultra-Luminous Product>
<![if !vml]>

<![endif]>
When wearing your gimmicked sunglasses, you will not be seeing the world through "rose-colored" glasses. Everything will appear normal until you wish to "activate" the secret (right in front of the spectator).
Engaging the gimmick involves no hand motion; you simply look in the appropriate direction (which cannot be seen, since you are wearing sunglasses) and the marks magically appear on the backs of the playing cards.
<![if !vml]>

<![endif]>
You can wear the gimmick all the time without impairing vision or altering view of the world -or- keep the gimmick in your wallet. Once the gimmick is removed from your wallet, you can place it in position in a matter of seconds and you will be ready to fool your friends. The choice is yours !
Gimmick may be used to find out if your "friends" are using these marked cards against you in a game of poker, rummy, etc. Similar to how a casino may use the same gimmick to detect if this marking technique is being used against them. Think of the fun you can have if you can read your friends marked cards and they do not know that you too can see the marks.
Click on photo below to see enlarged view of how cards will look to others (and to you) though your sunglasses without activating/engaging the gimmick: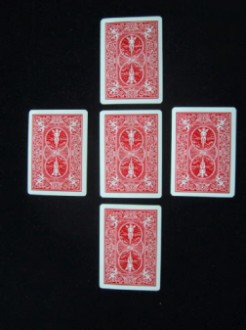 or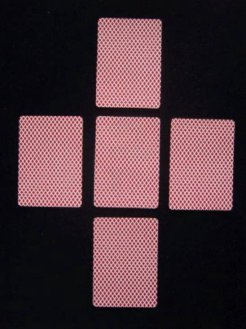 or Marking Daub/Paste or Juice Dust (TM)
Only one of the above 5 cards, in each group, are marked !
(Video Clip is Available on "View Cards through activated gimmick" page (Bicycle Playing Cards Exposed View))
Can you guess which card is marked & what card it is (suite and value) ? Click on any card above to see enlarged view of cards and reveal markings. Shortly, you will see how the marks magically appear when viewed through the activated/engaged gimmick.
Luminous marker kit

(regular)

& Luminous Enhancing Sunglasses
$208 USD
(Save $20 when buying the luminous market kit & Luminous Enhancing Sunglasses)
Luminous Marker kit

(regular)

$109 USD


(Average cost is $5.45 per marked deck)

Luminous Enhancing Sunglasses (only) -

Luminous marker kit is not included

$119 USD
Ultra-Luminous
Ultra-Luminous uses VERY different chemicals, filters and sunglasses than the regular luminous product. In addition, Ultra-Luminous offers contact lenses as an option or a hybrid product.
Audio and video clips
(same clips as on the NU-CONcept home page)
Luminous audio clip: (Note: Clips are large and may take a few minutes to download, please be patient. It may be faster to <right click> your mouse as "save target as..." Save MP3, AVI or WMV file on your hard disk and "double click" file to plat at your own convenience. Estimate 5-10 seconds to download 300KB on a cable modem vs. 1-2 minutes on a 56KB telephone dial-up line)
Click Here for Flash audio (If you don't see a "GRAY ARROW" then you do not have ActiveX enabled in your browser which is required for "Flash audio") OR
Download MP3 audio (300 KB) - less than 2 Minute play time. Video demonstrations may be viewed below.
Note: It is recommended that you use a high speed cable modem or DSL line to download the video clips below in 1 -2 minutes. If you are using a 56 KB line, NU-CONcept advises that you use the mouse "right click....save as..." option and be prepared to wait 45 minutes to an hour for the download to complete.
FOR ENTERTAINMENT PURPOSES ONLY
(It is illegal and immoral to use these marked cards while gambling in private or casino games. Do not cheat poker or other game of chance.)

General Pricing and ordering information for all NU-CONcept products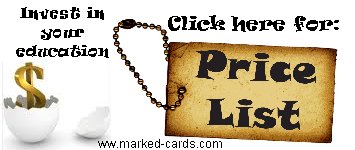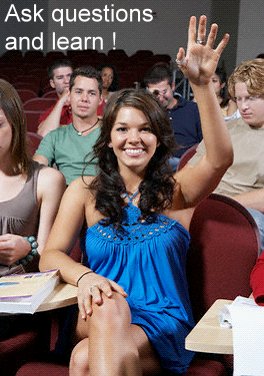 Jeff Spiller; 3280 Sunrise Highway, suite 227, Wantagh, NY 11793
NU-CONcept Solutions
| | | |
| --- | --- | --- |
| "Knowledge is Power" with NU-CONcept marked cards | | |

Web site redesigned and re-named and relocated on Nov. 1, 2004 to www.marked-cards.com