High Tech Electronic Products
Bablefish language translation for text on this page....click on language desired:
(Note: all audio tracks, video clips and instructions are in English):
| | | |
| --- | --- | --- |
| "Knowledge is Power" with NU-CONcept marked cards | | |
Collusion with a partner
is more than just mind reading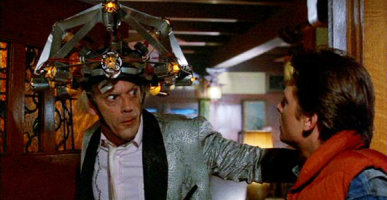 Professional mentalist / magician's
Hidden Audio Earpiece (Long Range)

Video Luminous and covert verbal communication to earpiece
Person in back room, looking at a Video Luminous monitor / display, can read the backs of all the exposed playing cards. If white borders are marked, then more cards may be seen if the cards are not perfectly aligned on the table.
Back room view ("CH3" - Camera 3)

Verbally communicate to the monkey at the table using wireless hidden earpiece. The person in the backroom knows everything, so a monkey can sit at the table and just follow instructions.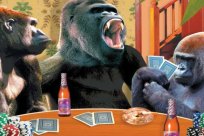 Covert communication using your cell phone to a hidden wireless earpiece allows for unlimited communication range and excellent clarity.
Smallest earpiece is 6.5mm x 11.25mm (about the size of a cotton swab (Q-Tip))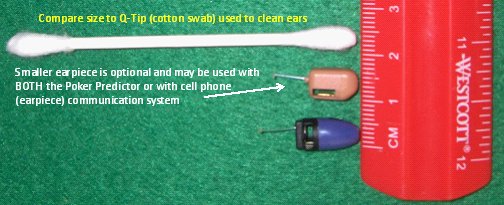 Sometimes a professional performer may have a 3rd partner in the room (typically of the opposite sex) who wears the earpeice. This accomplice communicates to the performer by using casual body or hand signals.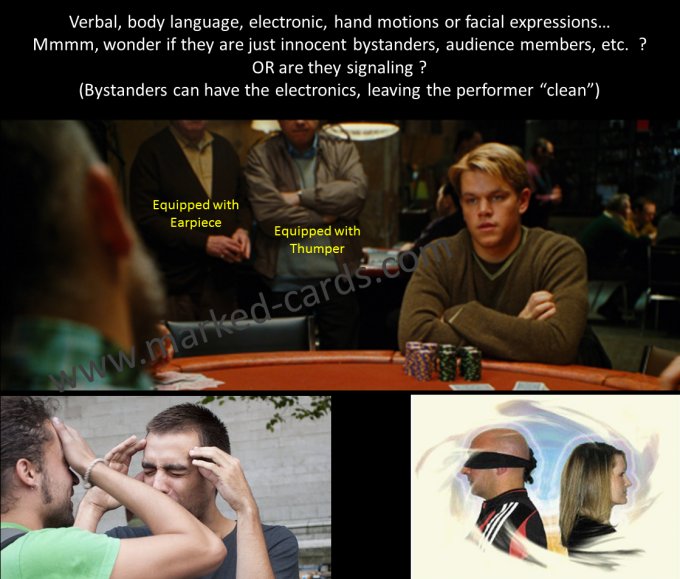 ************************
So, you don't want to use an earpiece ?
Collude with a partner using a body worn magician / mentalist Thumper !
Video Luminous and covert non-verbal communication using a Thumper
(No earpiece required)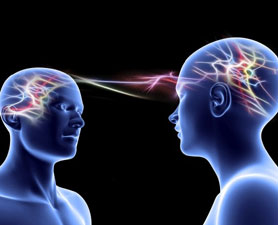 Other NU-CONcept, High Tech, products you may be interested in:


(Video Luminous vs. Poker Predictor Comparisons)
*********
FOR ENTERTAINMENT PURPOSES ONLY
Legal Notice:
It is illegal and immoral to use any marked cards while gambling in private or casino games
All marked cards should only be used for magic, mentalism, educational purposes, casino protection or "FOR ENTERTAINMENT PURPOSES ONLY"
(Do not cheat at poker or other game of chance, especially when gambling for money)

NU-CONcept reserves the right to refund money and/or not sell to people who plan to use it's products for any illegal activity.
Please eMail NU-CONcept for pricing and more details about products on this page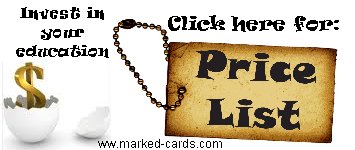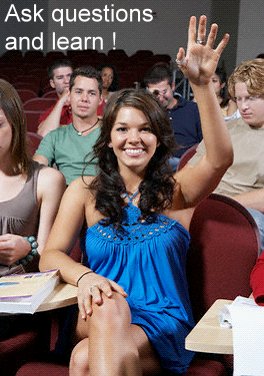 Jeff Spiller; 3280 Sunrise Highway, suite 227, Wantagh, NY 11793
NU-CONcept Solutions
| | | |
| --- | --- | --- |
| "Knowledge is Power" with NU-CONcept marked cards | | |

Web site redesigned and re-named and relocated on Nov. 1, 2004 to www.marked-cards.com