What are luminous shade marked cards ?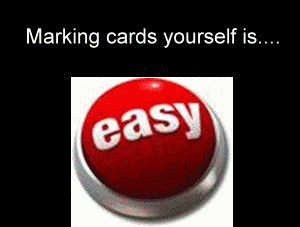 Bablefish language translation for text on this page....click on language desired:
(Note: all audio tracks, video clips and instructions are in English):
| | | |
| --- | --- | --- |
| "Knowledge is Power" with NU-CONcept marked cards | | |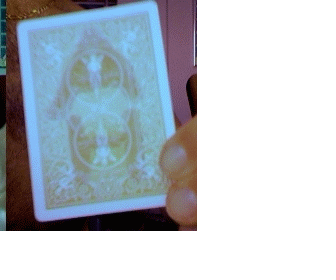 When a spectator views luminous shade marked cards with their naked eyes, the marks are not visible. As a matter of fact, the closer they look or the brighter the light they use to find marks, the less they will see. In addition, NU-CONcept marking solutions cannot be detected with UV light or by using the standard "riffle test" to detect marked cards.

The "regular" luminous product comes with special filter gimmick material, which may be attached any pair of (medium to dark) sunglasses you own, is required to make the marks "almost magically" jump out at you. Each "regular" luminous order comes with enough filter to make 30 pairs of sunglasses is provided.

NOTE: Ultra-Luminous technology is only available using premanufactured designer frames or un contact lenses.

(Note: Sunglasses are commonly worn in the World Series of Poker (WSOP) to prevent other players from detecting "tells" or reading facial expressions.)

View Bicycle cards through activated gimmick (Video clip available - WMV)

View Bee cards through activated gimmick (Video clip available - WMV)

Large marks across the back of the card may be read up to 8+ feet away

Small marks may be applied, so spectators hands will not inhibit reading of the marks. In addition, small marks may can also be strategically placed so they can be viewed when multiple cards are being held in a spectators hand or if cards are laying on the table.

NU-CONcept does not use alcohol as a solvent so there is no risk of damaging the new finish used on US Playing Card Company cardboard cards (ie. Bee, Bicycle, Aviator, Hoyle, Tally-Ho, etc.). Try it yourself, put a drop of alcohol on a card and after a few seconds, wipe it off . The damage can easily be seen by reflecting light off of the surface of the card. (This can be a major problem that can expose the "secret markings" of infrared / alcohol based products).

Some competitive companies claim to use UV or infrared inks. NU-CONcept does not use UV or infrared inks to make luminous marks which are documented to degrade under UV light.

In addition, as of December 2004, NU-CONcept has added a UV inhibitor to filter out UV light and virtually eliminate detection by using a UV light.

NU-CONcept also allows you to use the correct amount of shade under different lighting conditions.

(Note: NU-CONcept does not sell pre-marked cards. If you buy pre-marked Luminous, Tintwork, JUICE or FLASH playing cards, they may be difficult to read unless the lighting conditions match what they were designed for. In addition, your eyes may not be able to perceive shades the same as the manufacturer of the pre-marked deck.

( ** With NU-CONcept, you own the solutions used to make Juice or Luminous cards. Therefore, you have complte control of your marks because you can apply light, medium or dark "shade" to your playing cards. This flexibility allows you to match your cards to your working environment and your own visual capabilities **)

NU-CONcept has marked card solutions which work very effectively under incandescent, halogen, florescent or daylight.

If you are concerned about lighting conditions, please eMail NU-CONcept at "inquiry@marked-cards.com" for guidance on determining which marked card products will be best for you and your working environment.

NOTE: Human beings can only see objects, marks and light in the "visble light spectrum" which is defined scientifically as being in the 400nm - 700nm range.

Invisible UV inks: For those people who are curious....UV inks become visible to the human eye when a UV or black light "excites" electrons in the UV ink. The light waves cause electrons to jump and fall back to it's natural state within the atom. When the electron falls back to it's natural state, it forces the UV ink to emit energy and glow.

NU-CONcept intentionally does not use UV inks because the marks are easily detected if someone has a cheap, pocket/toy UV or black light. We also add UV inhibitors to prevent detection of marks by people who know that "Chinese" marked cards may be detected by using a pocket UV/black light.
Click here for "regular" luminous features and details
Audio and video clips

(same clips as on the NU-CONcept home page)

Luminous audio clip: (Note: Clips are large and may take a few minutes to download, please be patient. It may be faster to <right click> your mouse as "save target as..." Save MP3, AVI or WMV file on your hard disk and "double click" file to plat at your own convenience. Estimate 5-10 seconds to download 300KB on a cable modem vs. 1-2 minutes on a 56KB telephone dial-up line)
Click Here for Flash audio (If you don't see a "GRAY ARROW" then you do not have ActiveX enabled in your browser which is required for "Flash audio") OR
Download MP3 audio (300 KB) - less than 2 Minute play time. Video demonstrations may be viewed below.
Note: It is recommended that you use a high speed cable modem or DSL line to download the video clips below in 1 -2 minutes. If you are using a 56 KB line, NU-CONcept advises that you use the mouse "right click....save as..." option and be prepared to wait 45 minutes to an hour for the download to complete.

FOR ENTERTAINMENT PURPOSES ONLY
(It is illegal and immoral to use these marked cards while gambling in private or casino games. Do not cheat poker or other game of chance.)

General Pricing and ordering information for all NU-CONcept products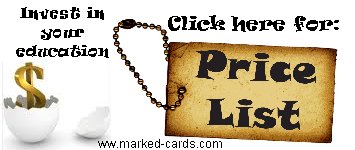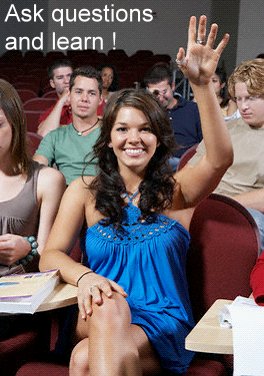 Jeff Spiller; 3280 Sunrise Highway, suite 227, Wantagh, NY 11793
NU-CONcept Solutions
| | | |
| --- | --- | --- |
| "Knowledge is Power" with NU-CONcept marked cards | | |

Web site redesigned and re-named and relocated on Nov. 1, 2004 to www.marked-cards.com