Juice and Luminous Marking Pattern Concepts
Read below to find out how tan lines relate to marked cards....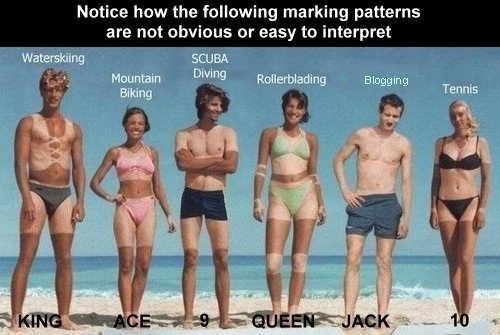 I bet you did not know the meaning behind the tan lines unless you were "in the know"
What are marked card "patterns" ?
When watching the movies or Internet based video clips it is most common to see Juice and Luminous marked cards shown using letters and numbers to represent the value of playing cards.
Beginners tend to prefer letters and numbers because they are easy to read. They are also easy to understand, when demonstrating marked cards on the Internet. However, professionals tend to favor dots, lines or patterns. With NU-CONcept you can make the choice of the marking patterns which are best for you, your cards and your working environment.
Marked cards the way you like them:
If you like letters and numbers, you can use them were appropriate or you can use the NU-CONcept manuscript, which comes with your order for ideas. The manuscript includes tons of color photographs which you can mix and match to personalize your marked cards. Since others will not know your marking patterns, they will be more difficult to detect.
NOTE: You do not have to memorize 52 patterns. If you think about it, all you need to remember is 13 patterns for each cards value, plus 4 suites. So, you only have a maximum of 17 patterns to remember....OR....you can simply stick to letters as numbers when appropriate. Just make up some "flash cards", similar to when you studied for school, and you will be able to memorize 17 patterns in less than an hour. It is not difficult !
Beginner vs. professional marking patterns:
A major reason why professionals tend to avoid using letters and numbers may be demonstrated in the photographs of the women below. The fact that letters and numbers are obvious can increase the risk of exposure and may not as deceptive if a spectator happens to see something unusual about the marked cards.
On the other hand, if the spectator notices unusual dots, lines or patterns which disappear upon close inspection, they will think they saw a shadow. But, if they see a letter, number or suite (ie. "heart") which relates to the face value of the card, then your risk of exposure increases.
Notice how the vertical "Juice" line in video clip below disappears when you focus on the card. Even if someone accidently saw the virtical line, they would not know that it meant anything and it would disappear as they examined the card.

The tan line on the left woman is obviously a "heart". But, the tan line(s) on the other woman (right side) is hard to determine the meaning of. Hard to interpret marking patterns tend to look like shadows and tend to be less likely to be discovered because they do not appear to have any real meaning.
Pre-Marked vs. marking your own cards
Now that you understand some marking pattern basics, you can use letters and numbers OR use simple dots, lines or patterns.
In addition, since you mark your own cards with NU-CONcept solutions or daub/dust, you will have complete control over your mark's intensity and deceptiveness. The tan lines above are obviously too intense to be deceptive. Using the tan line analogy, you do not want your juice marks to me this intense. Customers will find that lighter and more subtle marks will be more deceptive. (Examples of real Juiced cards may be seen near the bottom of this web page.)
Hopefully, this tan line example proves a point about how combining marking patterns with NU-CONcept marked card solutions or daub/dust will allow you to have the most deceptive marked cards available today.
This flexability of designing your own marked card patterns is not possible if you purchase pre-marked cards. Anyone who buys the same pre-marked cards will know exactly where and what to look for to expose the pre-marked cards.
In addition to being more flexible, marking your own cards is significantly less expensive than buying pre-marked cards and you should be able to mark a deck in about an 1 hour. However, Flash marking patterns will take longer to make.
Juice vs. Luminous:
Depending upon the back design of you cards, you will be able to use one or more of the marking patterns listed in the table below. You should be able to mark a deck of cards in about 1 hour.
Both luminous and juice technology are technically variations of a higher level category of marked cards called "Shade". As the name implies, maximum deception occurs when you "shade" the cards using Juice or Luminous solutions or dust formulas and chemicals.
Juice: If someone knows how to read juice marks, a letter or number may "pop-out" at them intentionally or by accident. However, if you use dots, line or patterns, this person will simply think they saw a shadow and when they look closer to see the mark, it will disappear. Juice is a perfect example of "the closer you look the less you see" because the marks will disappear when the closely examine the cards for marks.
Luminous: Luminous technology is conceptually similar to "Juice", but, it is also very different because luminous marks are only visible to the human eye when the cards are viewed through the correct filtered sunglasses or contact lenses or both. No one can accidently see luminous marks unless they are wearing the correct sunglasses or contact lenses. Luminous marks are also much easier to read than juice because the sunglasses or contact lenses do 99% of the work for you when reading the marks.
Explanation of different types of marking patterns which may be used to mark cards using Juice of luminous solutions or daub/dust